Welcome To
DECATUR GHOST TOUR
In Historic Downtown Decatur Ga.
Led by professional psychic medium and paranormal investigator,
Boo Newell
Discover Decatur's Spirit Community with tales of...
MURDER, PASSION, VICE, WAR AND TRAGEDY.
Your tour begins in the heart of Downtown Decatur's Historic Town Square, a diverse enclave of quaint shops and restaurants that share common space with the ghosts of Decatur's exciting past. We

stop at one of the oldest two story homes in Decatur where it's been said spirits haunt the walled up fireplaces and move freely about the grounds. We will travel down small streets untouched by time where late at night... the cries of the wounded soldiers might be heard. You will never forget the twilight visit to Old Decatur Cemetery... some of the city's most notable citizens are interred here. Be sure to bring your camera and don't be surprised if you capture orbs and apparitions. Decatur's dead are pretty restless.
This is not your ordinary ghost tour.
Every stop has claims of paranormal activity.
An Easy And Accessible One Mile Walk Along Paved Sidewalks. The Tour Lasts Approximately 2 to 2 and 1/2Hours.
ADVANCE RESERVATIONS REQUIRED

Tour Fees $20 - $12 Children

10 and under

Tour Begins

at the Bandstand in

Decatur Square

.

Tour Times see

Schedule

Please

arrive 15 minutes before the tour begins as we will start promptly on the hour.

All Tour participants will be required to sign a liability waiver.
SPACE IS LIMITED RESERVE EARLY.
Decatur Ghost Tour offers Private Tours for parties of 10 or more.
Tours may be canceled in the event of severe weather, or if we do not reach our minimum of 6 patrons per tour.
We will call you if the tour is canceled due to severe weather in the Decatur area. If you have not heard from us, we will meet you at the bandstand.
RAIN CHECK POLICY: Tour guides will be at the Bandstand at Courthouse Square in Downtown Decatur at the beginning of your tour. You may pay then, and begin the tour as scheduled regardless of the weather. You have an 1/2 hour to decide if you'd like to continue with the rest of the tour. If you'd rather re-schedule, tell your guide and you will be given a "rain check" to be allowed to return to another scheduled tour at no charge. You will be required to re-schedule your reservations.
We encourage you to bring a flashlight, your camera and a good pair of walking shoes.
There are no public restrooms along the tour route.
All are welcome. If you have medical or disability concerns, please let us know and we will make every effort to accommodate you.
101 E. Court Square
Decatur, Ga. 30030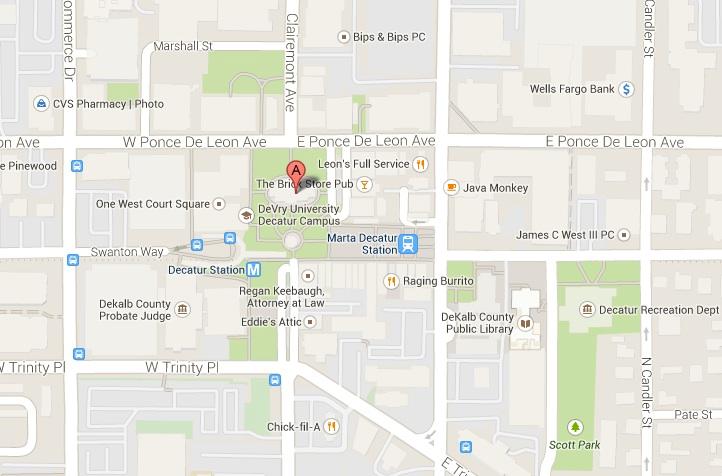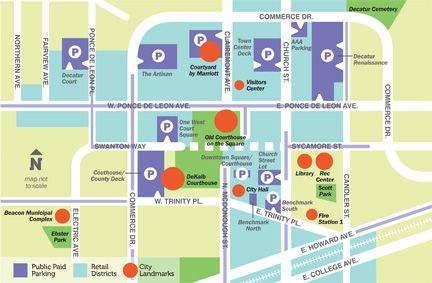 For Parking Information, please check this link: